Roof Repair Service, Respectful Quality Work
Call For Pricing (604) 259-0011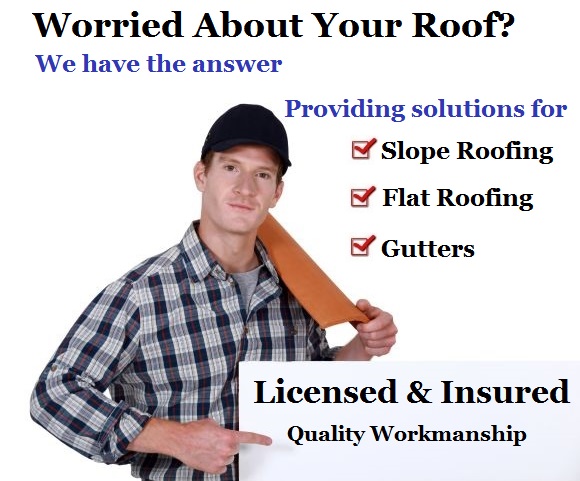 We are a leading roofing company in Vancouver specializing in flat and slope roofs, new roof installation and roof repair for both residential and commercial buildings. If your roof needs attention, call us. We can provide insight over the phone in many cases and will take a closer look on request.
Crucial Roof Services
Your inquiry will be handled by a Trade Qualified (TQ) Journeyman roofer with extensive knowledge in the roofing industry.
Repairing or replacing a roof in Vancouver can be costly. For that reason, some of us often put it off longer than we should. Unfortunately, there are circumstances where you need to address the problem as soon as you are aware of it to prevent further deterioration.
Below Are Three (3) Tell-Tale Signs Your Roof Needs To Be Repaired or Replaced…
1. Dips In The Roof
If you have found visible signs of a dip in your roof this usually indicates trouble. There could be rot developing in the framework or moisture could be causing different areas to swell and buckle. In either case it is a good thing you caught it before it gets away from you. The roof should be a uniformly straight surface. If there are areas where water can build up, problems will only get worse!
2. Damaged Shingles
Shingles curl up as they age and nails will start working their way out. This happens as the UV coating gets washed away by rain and snow. There will also be a loss of granules because they tend to fall out at about the same rate as the UV coating loss occurs. If these signs are visible then it is time to replace your shingles.
3. Leaks
You may be able to extend the life of a leaky roof with some repair work, but if you notice that the leaks seem to be getting out of hand, it is likely that you will need to replace your roof altogether. Keep in mind that some roof leaks are easier to spot than others. While a puddle in the floor is obvious, you also need to be on the lookout for discolorations on your ceiling. Any brown spots are indicative of moisture, which could be coming from a leaking roof.
Another cause of problems can stem from a lack of proper drainage due to lack of regular gutter cleaning service. If rain is not running off the house properly it can cause problems to the foundation as well. Compounded problems of this nature are not welcome in any home. If you are concerned about anything mentioned here call us to talk about it.
Call (604) 259-0011 For Your FREE No Obligation Roof Inspection
It is difficult for an amateur to pinpoint exactly where a leak originates…
… so you need to call a roofing company and ask them to send a man over with the right equipment to find that leak for you. Once we do a thorough inspection you have a better idea the kind of shape your roof is in.  An experienced roofing contractor can determine if a simple roof leak repair is enough or you need to replace the roof entirely. When inspecting your own roof for problems, some things will be clearly obvious like algae, crumbling shingles, but it is the hidden problems that will haunt you. All roofs have a limited lifespan, and when yours has expired it is time to bring in a professional.
Yes, replacing the roof can be expensive but wooden roof trusses rot when exposed to the elements, so doing nothing WILL become EXTREMELY expensive. If your roof is starting to sag, then roof replacement may be your only option. We do not advise waiting that long to address a problem with your roof. How soon we catch the problem will determine how expensive the job will be. We suggest you have us perform an in-depth evaluation of your roof if you suspect trouble.
Call (604) 259-0011 For Your FREE No Obligation Roof Inspection
By: David Pierce